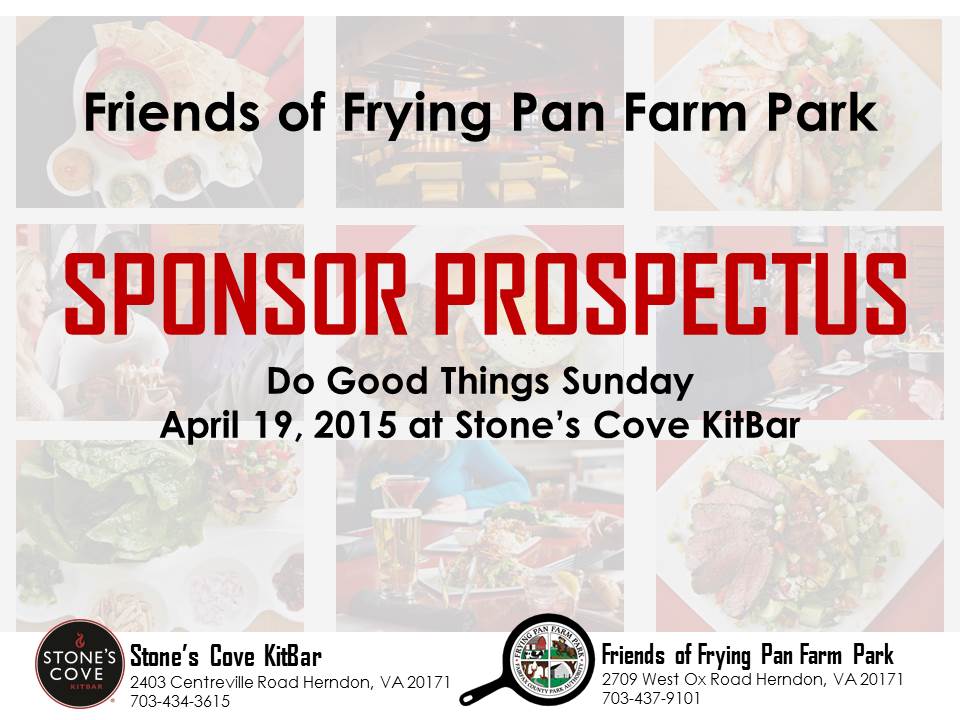 We are proud to announce that the Friends of Frying Pan Farm Park is partnering with Stone's Cove KitBar to host a do good things Sunday on April 19, 2015 at their Herndon location. A program of the do good things Foundation, do good things Sundays are designed to support energized local charities that are making measurable differences in their communities by donating ten percent of that Sunday's KitBar earnings.                    
On Sunday April 19th, Stone Cove's Kitbar will donate 10% of all sales to the Friends of Frying Pan Farm Park to support our Farm Equipment Campaign. The farmer needs a new tractor for plowing, planting and harvesting and a new trailer for transporting new livestock home from market and taking animals to educational and community outreach events.
Please consider supporting this campaign as a Mini-Matcher, table sponsor, or restaurant patron.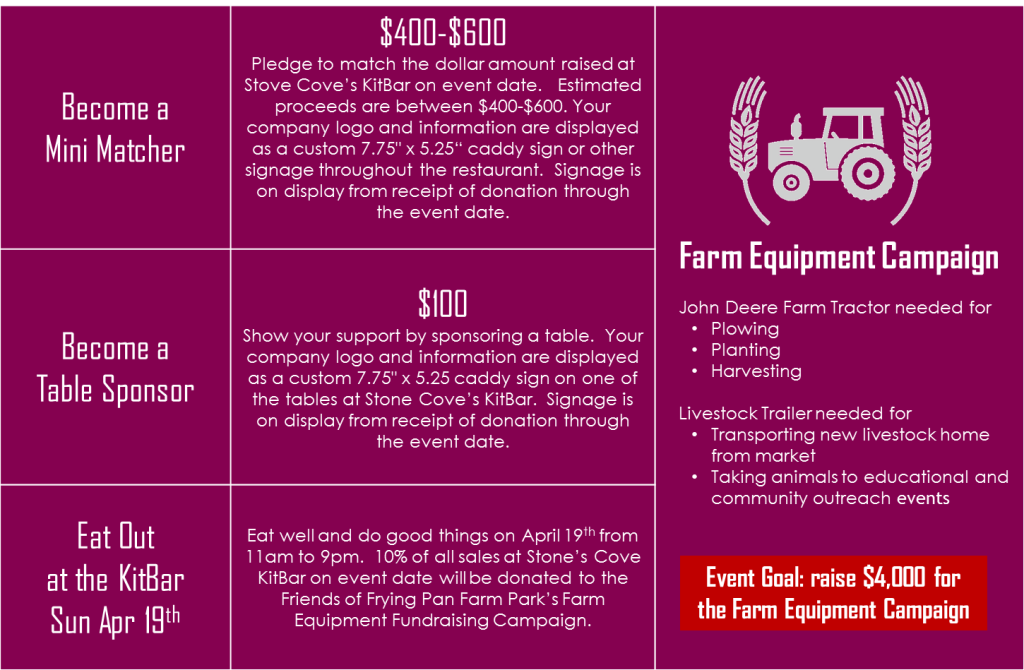 For more information on sponsor visibility please look at our Sponsor Prospectus.
Frying Pan Farm Park is a vitally important resource to the community, preserving the regions agricultural history and serving area families for generations with a beautiful free park where they cultivate traditions and harvest new memories.

Please fill out this form and send to the park:
Frying Pan Farm Park
2709 West Ox Road
Herndon, VA 20171
Or Fax: (703) 437-9139


Frying Pan Farm Park
is one of the most unique places to visit in Northern Virginia and is home to the last working farm in Fairfax county and the only public equestrian facility of its size.  We thank you for visiting with us today and invite you to be a Friends member.  In addition, there are many great reasons to visit us today!
Real Farm Life -From our blacksmith shop to our smoke house, get a real taste of what Virginia farm life was like, 80 years ago.  Take a wagon ride through the farm and fields of the park.
Animals, Animals, Everywhere - This is a real working farm!  See our cows, pigs, goats, horses, sheep, rabbits and even our peacock!   Try your hand at cow milking daily 4pm.
Amazing Equestrian Events - Frying Pan Farm Park is a regional equestrian center, and you can see lots of great events for free, including jumping, cross-country, western competitions, and more!
These are but a few reasons to visit the park.  Explore our webpages to find a diverse combination of events, classes, and special opportunities.